Little Big Town opgericht in 1998, De groep bestaat nog steeds uit dezelfde vier leden namelijk; Karen Fairchild, Kimberly Schlapman,Jimi Westbrook, en Phillip Sweet.
Ze hebben alle vier sterke vocale harmonieën, ze wisselen elkaar af als lead zanger. Westbrook en Sweet spelen ook gitaar.
---
Na een mislukt platen contract met het Mercury Nashville Records label, Welke geen singles of albums uitbracht, brengen ze hun titelloze debuut op Monument Records in 2002 uit. Er kwamen kleine hitjes van dit album af , later verliet de groep het label.
In 2005 had de groep getekent met de Equity Music Group, een onafhankelijk platenlabel in handen van niemand minder dan Clint Black. Hun tweede album, "The Road to Here" was dat jaar dan ook uitgebracht.
Dit werd platina in de VS, er volgde top tien singles "Boondocks" en "Bring It On Home".
"A Place to Land" is de titel van hun derde album, uitgebracht in 2007.
Dit album met de eerste single "I'm with the Band", was een Top 40 hit. Kort na de release werd de groep overgebracht naar Capitol Records Nashville, die de rechten verworven voor "A Place to Land" en brachten de hits "Fine Line" en "Good God Willing ' uit.
Little Big Town hebben twaalf nummers gehad op de Billboard Hot Country Songs charts. Dit cijfer is inclusief een kerst-single die beschikbaar was gesteld alleen als download, en een live-cover van "Life in a Northern Town" (samen met Sugarland en Jake Owen). op 24 augustus 2010 brachten ze hun vierde studio album uit via Capitol Nashville. The Reason Why heet het album met de hit singel
getiteld "Little White Church"
Karen Fairchild en Jimi Westbrook trouwde op 31 mei 2006, hoewel hun huwelijk pas bekend werd gemaakt twee maanden later. Het echtpaar verwelkomde hun eerste kind, zoon Elijah Dylan Westbrook, op 5 maart 2010 in Nashville.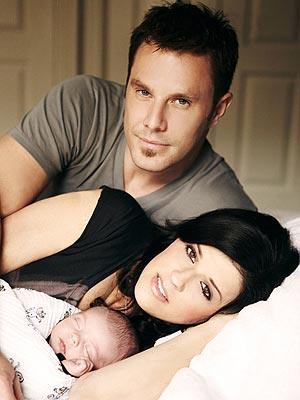 Karen Fairchild, Jimi Westbrook en Elijah
Kimberly Roads was getrouwd met Stephen Schlapman op 28 november, 2006 ze is bevallen van een meisje, Daisy Pearl Schlapman, op 27 juli 2007, Ze gaat nu door met de laatste naam van haar echtgenoot, Schlapman. Kimberly was eerder getrouwd met Steven Roads. die aan een hartaanval overleed in 2005. Hij was ook de band's advocaat.
Phillip Sweet trouwde met Rebecca Arthur, eigenaar van een bedrijf en garderobe stylist, op 30 maart 2007. Rebecca gaf geboorte aan dochter Penelopi Jane Sweet op 27 december 2007 om 17:47 in de Baptist Hospital in Nashville.